09/01/2023
Keys to Cost-Effective Professional Development
By Melissa Venable & Melanie Reinersman
Congratulations on your goal to obtain professional development. Continuing education "develops your skills, keeps you current in your field, and allows you to deliver quality services" (NCDA, 2023, p. 3). Recognizing there are rewards and challenges with any goal, NCDA aims to support you with options for ease of obtaining more knowledge/skills in career development, as well as credit for continuing education, at a reasonable cost.
According to the NCDA Code of Ethics, one area of responsibility for the career professional is to seek continuing education:
Career professionals recognize the need for continuing education to acquire and maintain a reasonable level of awareness of current scientific and professional information in their fields of activity. They take steps to maintain competence in the skills they use, are open to new procedures, and keep current with the populations with whom they work. (NCDA, 2015, C.2.f.)
Additionally, career professionals who hold an NCDA credential, state licensure, or obligation to other authority (e.g., an employer), may be required to secure approved contact hours over a specific period of time. Thus, anyone in our profession could be seeking either professional development for their own benefit or aiming to earn continuing education (CEs) to fulfill a requirement. The options listed in this article include both professional development and continuing education so that you may choose how you wish to have your goals met.
Remembering the Budget
Just as there are keys to getting discounts on anything from buying a car, utilizing store coupons, or booking travel, NCDA offers cost-effective ways to achieve professional development. For example, anyone can watch a webinar and gain professional development on a variety of topics. Those that want CEs can register for a live webinar, or watch a pre-recorded webinar then submit a form for CEs and by using the Discounted Webinar Package, the more you watch the more you save!
Table 1 lists numerous options, as well as the effect on the user's budget. While this list is extensive, it may not include everything NCDA offers. Some options are listed in more than one row to cover the different cost-effectiveness of the option. For example, everything in The Hub (NCDA's new learning platform) supports professional development and CEs are offered for a range of costs and formats, such as watching videos, listening to podcasts, or reading publications. Please visit the NCDA website for more information.
Table 1
Keys to NCDA Professional Development and Continuing Education
Support the Field of Career Development
NCDA invites Career Convergence readers and anyone in the field of career development to become members of our professional association. Members can benefit from all the professional development, advocacy, standards, and publications that NCDA has to offer. Visit www.ncda.org and click on Membership.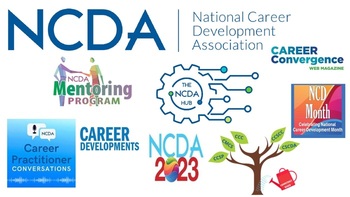 References
NCDA. (2015). Code of ethics. https://www.ncda.org/aws/NCDA/asset_manager/get_file/3395?ver=738700
NCDA. (2023). NCDA credentialing continuing education manual (5th ed.). https://www.ncda.org/aws/NCDA/asset_manager/get_file/312355?ver=30775
---

Melissa Venable is NCDA's Professional Development Director. mvenable@ncda.org

Melanie Reinersman is NCDA's Website & Web Magazine Editor. mreinersman@ncda.org
---